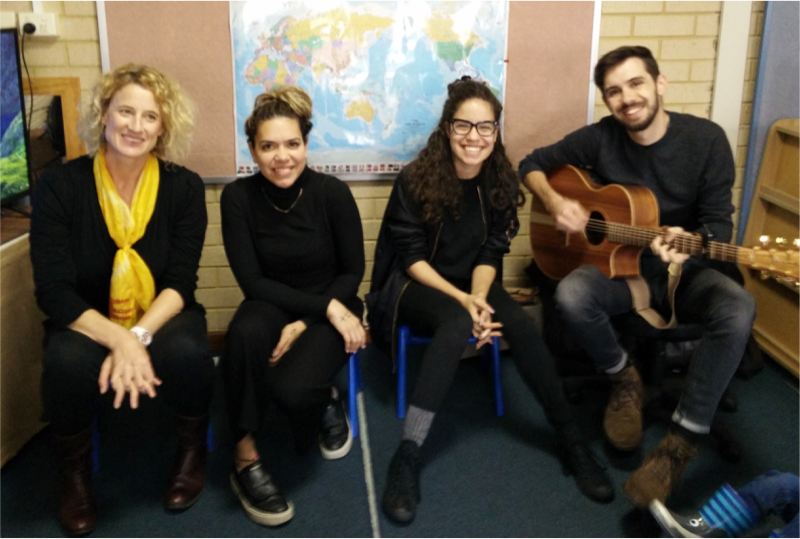 Recently the Koorlog team presented songs to the Canningvale Pre-Kindy students.  
We visited the centre three times for three different groups of children and each group had a very different feel. The first group was a little shy and reluctant to sit too close. The second group mobbed Kobi with cries of "Kaya" and "Wanjoo" as he walked in the door, pulling him down to read stories on the floor. The third group was difficult to get in the door from outside. 
Our presenters, Keira and Cezera, are new with us and were learning to introduce songs, give instruction, set tempi and highlight certain language elements. They are learning fast!  
"I'm a Yongka" is always a favourite, and we are all pretty tired by the time we've hopped and stopped and scratched and munched and chewed.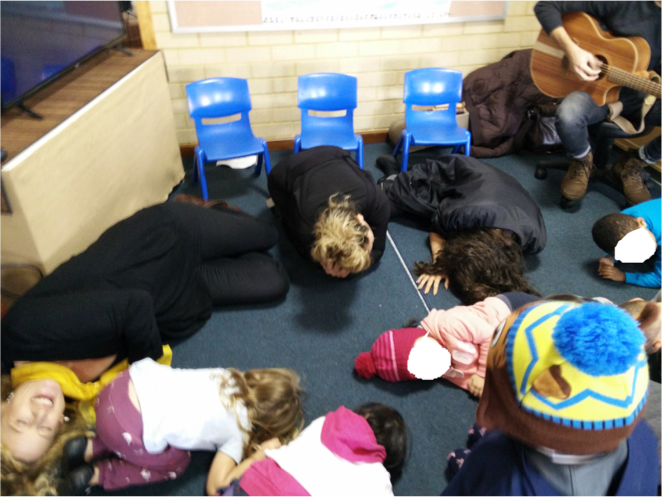 "Marwit" is a great song for bringing the energy of the children back down after all that hopping around. The children took delight in rocking their teddies (and bilbies) whist they sang quietly.  
When Kobi announced that we were singing "We Are One", many children started to hold three fingers up to tell us that they were three. This made us realise that they were literally interpreting the title of the song and lead to further explanation that we are all one big family or moort.  
The children had been well prepared and could sing the lyrics of "Nidja Noongar Boodja Koort", thanks to the assistance of their teacher, Lisa, and we could still hear the strains of this song, being hummed as we left the room. 
Boordawan 
Kylie 
Manager Koorlong workshops for Madjitil Moorna Inc  
Singing ~ learning ~ healing ~ Bringing cultures together.