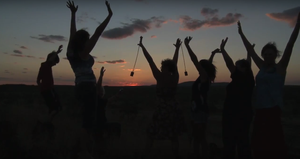 HALLS CREEK RODEO SONG EXTRAS
A significant experience for Madjitil Moorna Choir has been our connection over 6 years, with the remote community of Halls Creek. 
In May 2009 Madjitil Moorna travelled for the first time from Perth to the East Kimberley for a unique project built around cultural exchange. We were invited by teacher Doreen Green, a strong leader whose ancestors drove cattle and worked to preserve culture in the East Kimberley. Doreen believes in the healing power of music in community. 
Led by Aboriginal musical directors Della Rae Morrison and George Walley, Madjitil Moorna returned to Halls Creek in May 2010 and again in 2011, 2012 and 2013. With each visit, choir members brought different activities and became more involved with the wider community. 
The project focused on promoting positive self-esteem and good health through the healing powers of singing together in Aboriginal languages. 
With each visit, we taught our songs and performed with the kids in free community concerts for their families and the local community. 
In 2009 George Walley wrote a song with year 6/7 students. They chose the 'best thing about living in Halls Creek' - the Rodeo - as their subject. Since that visit the song has been sung all over WA and learnt by 1000s of primary school children in the Perth Metro Area. This hot favourite was recorded with kids back in Halls Creek in 2011 and was published as a beautiful picture book in 2017. Readers are encouraged to access the music video clip that brings the song alive (above) and to view the short documentary about the making of the song. (below).
The choir is very proud of this song and believes that the book will be a valuable resource in remote communities and right across the country. The book can be ordered via our 'Store' https://madjitilmoorna.org.au/store-downloads
The Halls Creek Project has given the choir considerable insight into the effects of colonial history and welfare on Aboriginal people and culture. Working and playing with kids and community has inspired us to carry on singing contemporary Aboriginal songs, knowing that by doing so, we are contributing to healing and reconciliation between us all as Australians. We may even inspire some new songwriters!
Read more about the 2009 visit. 
Read a summary of activities held during the 2010 visit or read the full report (complete with photos). 
Read about our involvement at the Nguyuru Waaringarrem Music Festival August, 2010